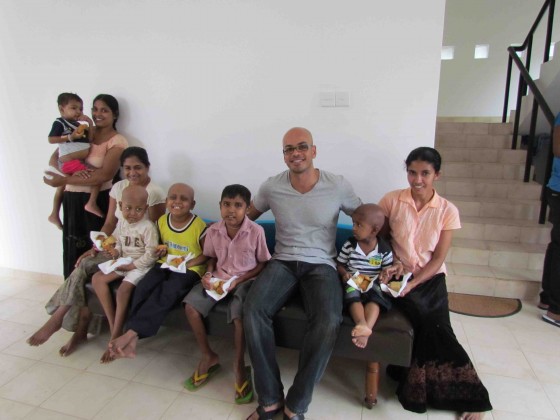 CCC Foundation is a not-for-profit charitable organisation based on Courage Compassion Commitment (CCC). We believe it is these very qualities whether you are a patient, carer or supporter that makes the difference.
In May 2003
CCC Foundation was first registered as Care for Cancer Children to assist children fighting cancer at the National Cancer Institute Maharagama, Sri Lanka (NCI). CCC Foundation was founded by Jetha Devapura residing in Melbourne Australia following a visit to the children's wards at the NCI. Devika and Gamini Wimalasuriya of the Lions Club of Havelock Town in Colombo, Sri Lanka introduced Jetha to the NCI. Jetha formed a voluntary CCC Foundation Committee in Melbourne Australia and worked together with Devika and Gamini in Sri Lanka to implement several projects at the children's section of the NCI. CCC Foundation provided part funds for the CCC Ward – a 16 bed children's ward, a Paediatric Intensive Care Unit and a counselling facility for children and their families.
In February 2004
CCC Foundation included a local Australian beneficiary in the Royal Children's Hospital (RCH) Melbourne. A small percentage of the funds generated by CCC Foundation in Australia went towards the Children's Cancer Centre of the RCH. At the same time Senior Paediatric Oncologist Dr. Keith Waters from the Children's Cancer Centre at the RCH offered to train the medical staff from NCI at the RCH.
August 2004
The CCC Foundation invited for the first time two nurses, a doctor and the Deputy Director of NCI to visit RCH in Melbourne for training. CCC is grateful to Dr. Keith Waters for coordinating this training program at the RCH.
In November 2004
CCC Foundation invited Dr. Keith Waters to visit NCI to provide training for the medical staff at the NCI. This was the first trip of its kind for an RCH staff member to Sri Lanka. Dr. Keith Waters has made several visits to NCI since then and RCH has became a partner of the CCC Foundation to provide best practice in Paediatric oncology treatment and care to the benefit the children and adolescence patients at the NCI.
In May 2004
The organisation changed its name from Care for Cancer Children to CCC Foundation Inc., inline with the expansion of its scope of work beyond Paediatric cancer. CCC stands for Courage, Compassion and Commitment – the three guiding principles of the organisation.
In August 2005
Sandra Buckley, a Clinical Nursing Specialist from the Children's Cancer Centre at the RCH visited NCI for a period of two weeks to provide valuable training to the nurses.
In July 2006
CCC also formed a partnership with the Peter MacCallum Cancer Centre (Peter Mac) who was also interested to support the work of the CCC Foundation to assist cancer patients at the NCI. Ms. Nihara Pathirana, a Radiation Therapist from Peter Mac made her first visit to NCI in Oct 2008 to review current practice and implement best practice in Radiation Therapy Treatment and training at NCI. Nihara made her second visit in Nov 2009.
In 2007
Following a recommendation from Dr. Keith Waters from RCH, CCC Foundations starts planning to build the CCChouse, the largest cancer transit home in Sri Lanka with 188 beds and an estimated cost of AUD $1.6Million or SL Rupees 160 Million. The CCChouse is a similar concept to the Ronald MacDonald House transit homes in Australia.
In April 2007
With the expansion in the size of the projects, CCC Foundation Sri Lanka a branch of CCC Foundation Inc. was formed.
In 2009
CCC starts the construction of the CCChouse project.
In Dec 2009
CCC Foundation launches CCCline, a free telephone counselling service to support those who require support in the areas of emotional wellbeing and mental health care. CCC Foundation partnered with Lifeline Hobart in Australia, Lifeline International and the National Institute of Mental Health, Angoda (NIMH) in Sri Lanka to provide this vital service to all people of Sri Lanka. Currently CCCline partners with Lifeline Hobart in Australia and is part of the Lifeline International Telephone Counselling network around the world. Kathy Mason (Training Development Manager, Lifeline Hobart) and Steve Barker (Trainer, Lifeline Hobart) visited Sri Lanka for the first time in Dec 2009 to help set up and train the CCCline Telephone Counsellors. They also visited Sri Lanka in June 2010 to provide further training. Kathy Mason and Mary Parsissons (President, Lifeline International and Trainer) also visited Sri Lanka in June 2011 to deliver training and conduct an review of he service.
In Sept 2010
Phase 1 of the CCChouse consisting of 100 beds was launched. Children cancer outpatients and their carers moved into the CCChouse in early 2011 followed by adult cancer outpatients.
In Dec 2010
Kumar Sangakkara (then captain for the Sri Lankan cricket team) joined CCC Foundation as the ambassador of the CCCline.
In 2019
The Let'sTALK Program was developed and a research and pilot study was conducted at 2 schools and 2 workplaces. The Let'sTALK Program is a preventative and early intervention strategy to support people feel safe to talk about their ideas, concerns or distress. The Program works in partnership with Yarra Valley Psychology and aims to create a climate of psychological safety at home, school, university, workplaces and in the community. To find out more www.letstalkprogram.org
See Videos on CCC
CCC Interview with Kumar Sangakkara:
CCC Panel discussion including Kumar Sangakkara about mental health and suicide in Sri Lanka
ABC 7:30 Report – Interview on Lifeline Hobart's involvement with CCCline.
Let'sTALK Youtube Channel: